Abstract
Circularly polarized luminescence (CPL) is an interesting phenomenon that represents the unequal emission of left- and right-handed polarized light from an emitter. CPL is promising in chirality characterization and various optical applications. Traditionally, research on CPL has been centered on organic substances. Nevertheless, in recent years, CPL based on inorganic substrates has also become a nascent topic, which is significant in exploring novel chirality- and luminescence-related properties and applications in inorganic materials. This short review summarizes the recent progress made regarding the following two aspects: 1) how to endow common inorganic luminophores with CPL activity; 2) how to use emerging chiral inorganic nanomaterials to design CPL-active systems. The general synthesis strategies, optical properties, applications and outlook of CPL-active inorganic materials are also demonstrated.
Graphical Abstract
Keywords
Circularly polarized luminescence, chirality, luminescence, inorganic luminescent materials, inorganic chiral materials
INTRODUCTION
Chirality is termed as the phenomenon where a certain object is nonsuperposable on its mirror image. When two objects with such a relationship exist, they are known as enantiomers. Chirality is pervasive and manifests itself at different scales, ranging from macroscopic left and right hands to molecular-scale asymmetric carbon atoms and to various helical structures [Figure 1A-C]. The significance of chirality is well acknowledged, for example, only one given enantiomeric form of many biomolecules is preferred to maintain life. The above homochirality of life also raises an exacting enantiomer selectivity toward numerous daily chemicals, drugs and pesticides. Therefore, understanding chiral structure-property relationships is one of the most important topics across a broad range of disciplines[1,2].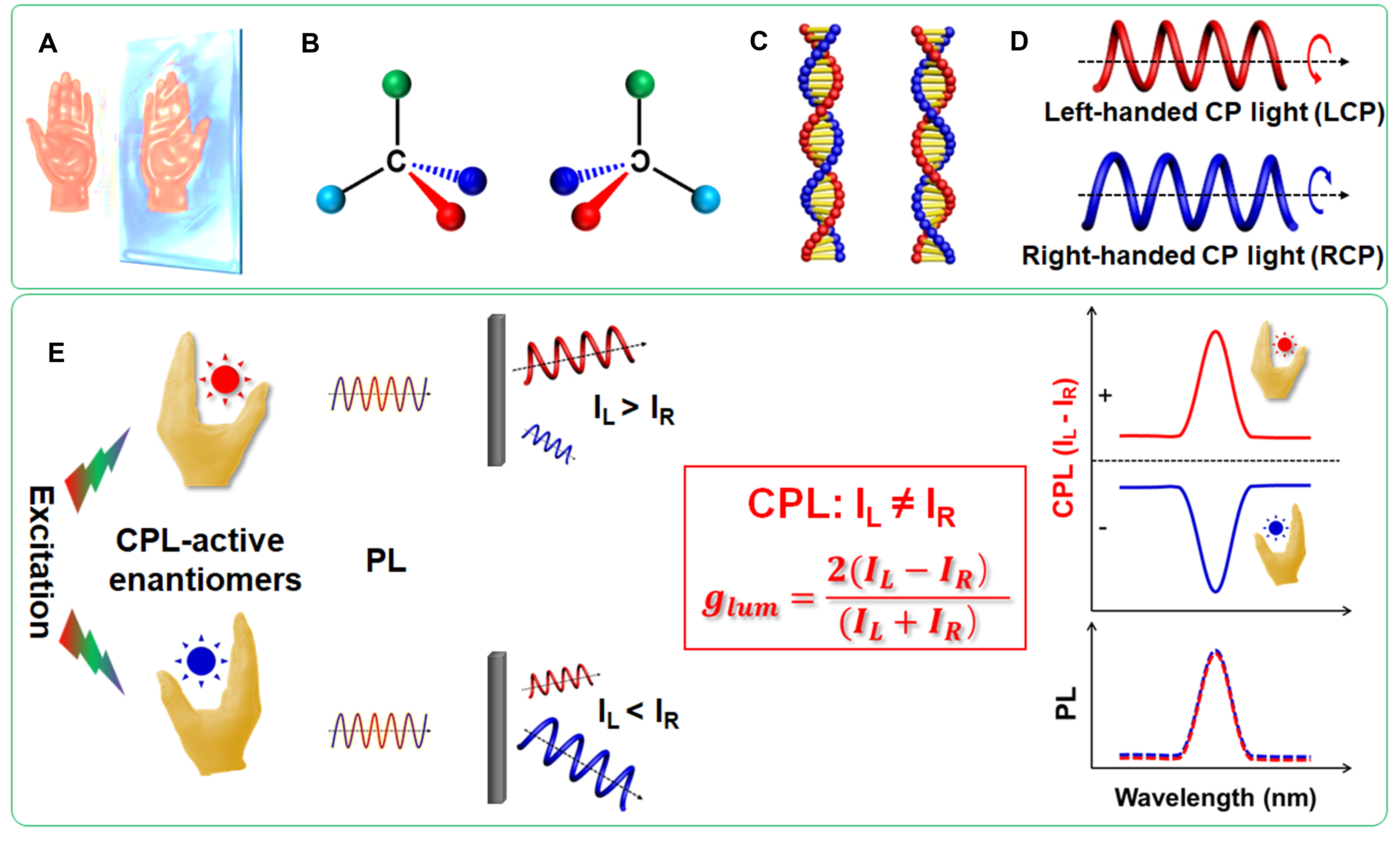 Figure 1. Typical enantiomers of (A) left and right hands, (B) chiral carbon centers, (C) helices and (D) left- and right-handed CP light. (E) Schematic of CPL from two CPL-active enantiomers. CPL: Circularly polarized luminescence.
Light can also be chiral in the form of circularly polarized (CP) light. As shown in Figure 1D, around the direction of propagation, the electric field of CP light rotates in either a counterclockwise or clockwise helical pattern, resulting in left-handed CP light (LCP) or its counter-enantiomer of right-handed CP light (RCP), respectively. CP light has many promising applications, including three-dimensional (3D) and holographic display, spintronics, encryption, diagnosis and asymmetric synthesis[3-10]. Traditionally, a combination of a linear polarizer and a quarter-wave plate is applied to obtain CP light. However, this method suffers from a severe loss of light, especially in LED displays (up to 50%), invalidity beyond a certain frequency range and incompatibility with highly integrated photonic circuits[11,12]. Therefore, it is of interest to explore high-efficiency methods for the generation of CP light.
Usually, enantiomers are indistinguishable to some extent, since they share many identical properties. Fortunately, they respond differently toward LCP and RCP, which enables us to "see" microscale chiral matter using CP light-based spectroscopy[13,14]. Furthermore, the capability of chiral substances to manipulate the polarization states of light provides an alternative method to enable a luminophore to emit LCP and RCP beams unequally, which is known as circularly polarized luminescence (CPL)[15]. A schematic description for CPL in chiral systems is shown in Figure 1E. In principle, a pair of CPL-active enantiomers exhibit the same photoluminescence (PL) spectra. However, the LCP and RCP components in the emission are unequal when chirality is taken into consideration, i.e., LCP is over than RCP in one enantiomer, while the reverse is true in the other enantiomer. By measuring the difference between LCP and RCP (denoted by "IL-IR", where IL and IR are the intensity of LCP and RCP, respectively) at a given emission wavelength, a CPL spectrum can be drawn using "IL-IR" as the vertical axis and emission wavelength as the horizontal axis. It is noted that the value of "IL-IR" is expressed as an ellipse angle θ (mdeg) in many studies and some commercial CPL instruments. This is because the overall polarization trajectory for a mixture of LCP and RCP light becomes an ellipse when IL is unequal to IR. The CPL signals usually overlap with the corresponding PL signals, but a pair of enantiomers show opposing CPL spectra.
Another important index to evaluate CPL is the dissymmetry factor of glum:glum = [2(IL-IR)]/(IL+IR). For the values of glum ranging from -2 to +2, only a given handedness CP light is emitted in the extreme cases (+2 for LCP only and -2 for RCP only), while no circular polarization occurs (i.e., IL=IR) when glum is zero. Consequently, CPL spectroscopy affords a unique tool to study the chiral structures and properties of matter in excited states, is the emission analog of common circular dichroism (CD) spectroscopy and is supplementary to fluorescence spectroscopy. In return, the construction of various CPL-active chiral luminescent materials further expands the applications of CP light.
Over the past decade, notable progress has been made in the exploration of novel CPL-active systems, together with the advancement of CPL spectroscopy. However, much research has focused on organic substances, partially due to the fact that research on chirality has a long history in organic chemistry[16-21]. According to the principles of CPL in chiral systems, the choices of either luminescent or chiral unity should be diverse, thus allowing for a broad range of potential CPL-active systems beyond organics. On this basis, it is noteworthy that inorganic-based CPL has become a new and active research topic in recent years. For example, many inorganic luminophores are employed to create more colorful CPL candidates and emerging chiral inorganic nanomaterials are able to impart various luminophores with CPL activity[22,23]. Such research is significant for many reasons, including the fact that it brings a new perspective to explore the luminescence properties and mechanisms of inorganic luminophores, especially in chiral environments. In addition, it provides a toolbox to analyze the structures of chiral inorganic materials and is helpful in understanding the chirality transfer in "matter-matter" or "light-matter" interactions. Finally, it also offers more inorganic/organic functional materials with the power to manipulate light to broaden CPL-based applications[24-28].
In this short review, we consider two inorganic-associated CPL-active systems, namely, inorganic luminophore-containing and chiral inorganic host-based systems. For the former systems, various classes of inorganic luminophores are described, including metal ions (e.g., lanthanide and chromium ions), perovskite nanocrystals (NCs), metal clusters, carbon dots and semiconductors nanoparticles (NPs). Given that there are some recent well-written reviews focusing on lanthanide complexes, chromium complexes and perovskite NCs, they are discussed at length here. With regards to the latter systems, the utilization of chiral silica (SiO2) nanomaterials, chiral inorganic crystals and helical inorganic assemblies as hosts for CPL is discussed. To demonstrate the recent progress in these systems, some typical examples are selected and discussed. The properties (components, construction strategies and excitation and emission wavelengths, glum) of these examples are summarized in Table 1.
Table 1
Components, construction strategies and CPL properties of some inorganic-based CPL-active systems
Luminophore
Construction strategy type
[chiral sources]
Excitation
wavelength (nm)
Emission
wavelength
(nm)
Quantum yield (%)
Magnitude of glum
1. Inorganic luminophore-based CPL
Yb3+
II [PrPyBox, PhPyBOx]
365
972
0.60-0.70
10-2, Ref.[78]
NaYF4:Yb/Tm,
NaYF4:Yb/Er
III [L-/D-GAm assemblies]
980
360, 476, 802 (Tm), 540, 654 ( Er)
N
10-3, Ref.[88]
CaAl2O4:Eu, Nd
II [L-/D-cysteine]
320
440
N
10-2, Ref.[81]
ZnO
I [L/D-methionine]
325
510
N
N , Ref.[36]
CdSe
II [L-/D-cysteine]
451
605
N
10-3, Ref.[41]
CdSe/CdS
II [L-/D-cysteine]
400
583-683
35-60
10-4, Ref.[64]
Ag clusters
I [see Figure 6A]
365
558
3.9
10-1, Ref.[57]
Au clusters
I [see Figure 12A]
365
500
36.7
10-3, Ref.[86]
Ag clusters
I [see Figure 12A]
N
574
56, 95
10-3, Ref.[80]
AuAg clusters
III [G-quartet nanofiber]
356
475
9.42
10-2, Ref.[82]
Ag clusters
III [zeolite assembly]
360
520
N

10-2, Ref.[60]
Carbon dots
III [L-/D-GAm assemblies]
350-370
445-455
N
10-3, ref.[54]
Carbon dots
III [L-/D-GAm assemblies]
380
546, 604
30–55
10-3, Ref.[55]
Carbon dots
III [cellulose nanocrystal assembly]
N
450-620
5.2 (FL), 0.16 (Phos)
10-1, Ref.[52]
2. Chiral inorganic host-based CPL
Tb3+
III [helical silica]
230
545
N
10-3, Ref.[70]
CsPbBr3
III [helical silica]
365
517.5
N
10-3, Ref.[73]
Tetraphenylethylene (TPE) derivative
III [helical silica]
366
453
57
10-2, Ref.[75]
TPE derivative
III [helical silica]
365
500
20-27
10-3-10-4, Ref.[74]
Tb2O3, Eu2O3
III [chiral silica nanofibers]
375
545 (Tb2O3),
615 (Eu2O3)
N
10-3, Ref.[71]
Porphyrin (TCPP), TPE, MAPbBr3
III [chiral silica nanofibers]
375
650 (TCPP),
476 (TPE),
525 (MAPbBr3)
N
10-3, Ref.[72]
Eu3+
III [TbPO4·H2O]
365
590-705
N
10-3-10-2, Ref.[26]
DACT and TMD
III [assemblies of GdOOH nanowires]
N
550 (DACT),
650 (TMD)
N
N, Ref.[76]
We provide an overview of inorganic-based CPL. Firstly, several types of construction strategies for CPL-active systems are summarized, which are further clarified by selected examples of CPL-active systems containing inorganic luminophores or chiral inorganic nanomaterials. Next, CPL-active systems based on some special luminescent processes are listed, which are different from the common down-conversion luminescence in the visible range. Some typical applications are displayed, followed by a short conclusions and perspectives section.
CONSTRUCTION STRATEGIES FOR CPL-ACTIVE SYSTEMS
There are various strategies to achieve CPL in chiral systems. A straightforward strategy [type I, Figure 2A] is where the luminophore itself is chiral, which is known as an intrinsically chiral luminophore. However, unlike organic molecules with diverse chiral geometries, many inorganic luminescent substances are not chiral. Therefore, a subtle design of symmetry-breaking synthetic methods is often required to produce chiral structures[26,29]. Chirality transfer is widespread on various interfaces[30,31], which makes it more flexible and versatile to enable CPL, even on preformed achiral luminophores. More specifically, the chirality can be transferred from chiral ligands [type II, Figure 2B] and chiral hosts [type III, Figure 2C]. In Type I, to acquire chiral products, chiral ligands or hosts are also employed but are finally removed. Compared with type I, one characteristic in types II and III is that the chiral ligands or hosts are required to co-exist with the luminophore for chirality inducement.

Figure 2. Three types of construction strategies of CPL-active systems: (A) intrinsically chiral luminophores (type I); (B) chiral ligand-induced CPL (type II); (C) "host-guest"-induced CPL (type III). CPL: Circularly polarized luminescence.
Intrinsically chiral luminophores (type I)
The chirality in inorganic materials can appear in various forms. For crystalline materials, point and space groups are basic tools to describe crystal structures. There are 230 group spaces, which are created via the combination of 32 point groups and 14 types of Bravais lattices. Point and space groups are also useful to judge chirality and chiroptical activity. Chiral crystals can exist in 65 Sohncke space groups, which are divided into two categories: I) 22 chiral groups with helical operations that thus contain 11 enantiomeric pairs (e.g., P31 and P32); II) the remaining 43 groups are achiral; however, if the unit (i.e., the smallest collection of atoms from which the whole crystal is restored by the application of all symmetry operations of the space group and translation) is chiral, the crystals can be chiral[32]. Early in 1948, chiral crystals with CPL activity were demonstrated in sodium uranyl acetate Na[UO2(CH3COO)3] crystals formed from achiral molecular subunits. The space group of Na[UO2(CH3COO)3] crystals belongs to the chiral space group of P213 and the chirality is caused by the helical canting of the three [UO2(CH3COO)3] rings and the noncentrosymmetric spatial arrangement of four coordination clusters. Moreover, the crystallographic structure is cubic, which is advantageous to observe CPL with small interruptions caused by birefringence. With such unique structures, a high glum of 1.31 was observed in Na[UO2(CH3COO)3] crystals by Riehl and Richardson[33] and Moran et al.[34].
Another method to endow crystals with optical activity is by creating crystalline defects (e.g., screws and distortions), which are caused by chiral additives regulating the nucleation-growth process[35]. In addition to the lattice chirality described above, chiral nano-/micromorphologies (e.g., copying the helical patterns of chiral organic templates) on a higher length scale can also induce chiroptical activity in crystalline or amorphous materials[31]. Duan et al.[36] demonstrated chiroptically-active crystalline ZnO films with multiple chiralities on different scales. Using chiral amino acids of L-/D-methionine (Met) as both structure-directing and symmetry-breaking agents, chiral hydroxide zinc carbonate (HZC) nanostructures were formed on quartz substrates. After removing organic species by calcination at 550 °C in air, HZC was transformed into chiral nanostructured ZnO films (L-CNZF, obtained with L-Met) with three levels of chirality [Figure 3]. On the primary level, the crystal structure of the ZnO nanoplate shows a subtle helical distortion along the [10-11] axis in a left-handed coiled pattern together with some lattice defects, which is caused by the chiral center of the methionine molecules. On the secondary level, several dozens of ZnO nanoplates are bent into a ZnO particle with a right-handed helix form. On the tertiary level, the arrangement of several ZnO particles forms a left-handed circinate helical morphology on the microscale. For the ZnO films (D-CNZF) obtained using D-Met, the handedness one of each level is just opposite to the corresponding one of L-CNZF. These ZnO films showed various chiroptical activities in their CD, CPL and Raman optical activity spectra. Under a 325 nm excitation, D-CNZF and L-CNZF exhibited antipodal CPL signals centered at 510 nm, consistent with the fluorescence band maximum.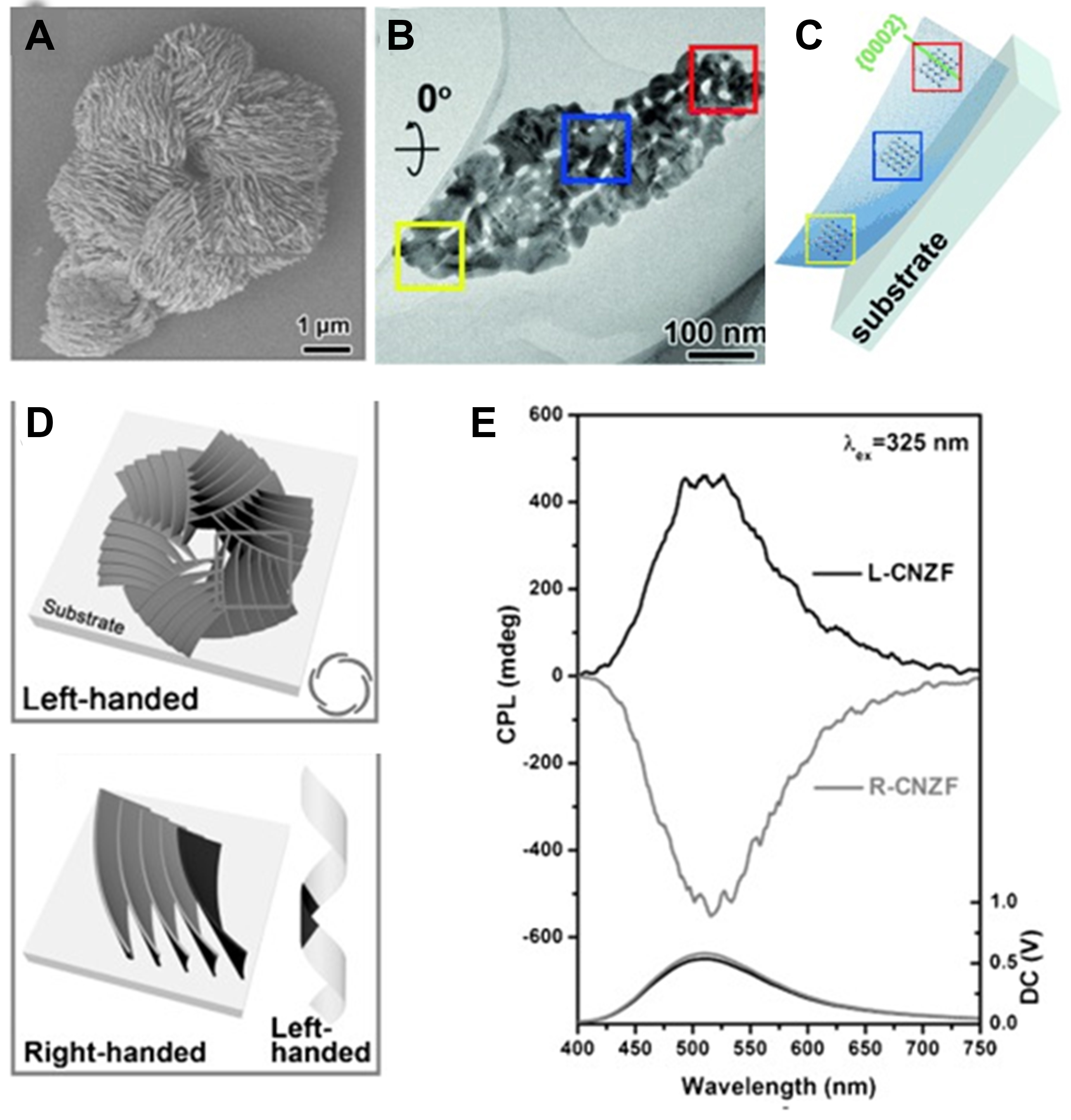 Figure 3. (A) SEM image of L-CNZF. (B) TEM image and (C) SAED patterns of a single ZnO nanoplate. (D) Schematic of hierarchical chirality in L-CNZF. (E) PL and CPL spectra of L- and R-CNZF. Reproduced with permission from Ref.[36]. Copyright (2015) John Wiley and Sons. SAED: Selected area electron diffraction; CPL: circularly polarized luminescence; PL: photoluminescence; CNZF: chiral nanostructured ZnO films.
Chiral ligand-induced CPL (type II)
Small chiral organic molecules are widely found and are powerful for producing chiroptical signals on inorganic substances. As shown in Figure 4, for example, CD signals are observed on plasmonic metal (Au and Ag) and semiconductor (e.g., CdS, CdSe and CdTe) NPs capped with chiral ligands[40-42]. The chirality transfer from ligands to inorganics can proceed through various mechanisms, including surface atom distortion with asymmetric clusters, the chiral arrangement of ligands on the surface, crystalline defects and the electronic interaction or coupling between chiral molecules and inorganic species[43,44].
Figure 4. (A) Optimized geometries and induced CD spectra. (B) CPL (top) and total luminescence (bottom) spectra of L- and D-cysteine-capped CdSe quantum dots. Reproduced with permission from Ref.[41]. Copyright (2013) American Chemical Society. (C) Chiral riboflavin molecule-induced CD optical activity in Au islands deposited on a glass substrate. Reproduced with permission from Ref.[42]. Copyright (2013) American Chemical Society. CD: Circular dichroism; CPL: circularly polarized luminescence.
The combination between inorganic nanomaterials and chiral ligands can be fulfilled by two synthetic routes, namely, ligand-guided one-step synthesis or post-modification by ligands exchanges. Although these methods appear easy to carry out, the chirality induction is dependent upon many factors, such as the types of ligands, the sizes/shapes of the NPs and the synthetic conditions. Furthermore, although the chirality is mainly judged by the CD signals, CD activity does not guarantee CPL activity. This is understandable based on the differences between the CD and CPL mechanisms, i.e., CD is associated with absorption from the ground states, while CPL is associated with emissions in the excited states.
"Host-guest"-induced CPL (type III)
Based on the concept of chirality induction in type II, it is found that various luminescent guests show chiroptical activity after being embedded in many chiral materials as chiral hosts. Moreover, several different guests can be simultaneously integrated into one host to acquire white CPL. In particular, with this method, emerging novel inorganic nanomaterials have found broad applications in CPL in recent years by encapsulating inorganic and/or organic luminescent guests. As a result, this strategy is more flexible for producing multicolor CPL by a rational combination between hosts and guests, thus widening the scope of inorganic CPL-active systems.
OVERVIEW OF INORGANIC-ASSOCIATED CPL-ACTIVE SYSTEMS
Inorganic luminophore-containing systems
Chiral inorganic host-based systems
Chiral silica
Over the past two decades, a variety of chiral silica nanomaterials have been reported and their chirality can be manifested by helical outwards or molecular-scale asymmetry on the siloxane framework[68]. Compared with chiral organic molecules, a prominent feature of silica is its thermal stability (close to 1,000 °C), which is desirable for high-temperature synthetic procedures. It has been confirmed that ions, molecules and nanoparticles incorporated within these chiral nano-silica materials can become CD active[69,70]. With the above success, it is of interest to explore chiral silica-based CPL-active systems.
Our group first demonstrated several entirely inorganic silica-lanthanide oxide CPL systems[71]. In our previous work, we found that linear polyethylenimine and L- (or D-) tartaric acids can co-assemble into catalytic chiral templates to direct the formation of chiral SiO2 nanofibers [Figure 8A]. Vibrational circular dichroism spectroscopic analysis revealed the asymmetric feature of Si-O-Si frameworks on the molecular scale, which can be maintained even up to 900 °C. These SiO2 nanofibers are used as chiral nanoreactors for the formation of sub-10 nm Eu2O3 (or Tb2O3) NPs, which are transformed from the Eu3+ (or Tb3+) trapped in SiO2 after heating at 900 °C in air [Figure 8B and C]. Interestingly, the CPL features of NPs are observed around the emission wavelengths of 615 nm (Eu2O3) and 545 nm (Tb2O3) with a |glum| of the order of 10-3. However, the excitation wavelength using homemade CPL spectroscopy is 375 nm, which deviates from the optimized excitation wavelength from PL spectra. The influence of the excitation wavelength on the CPL performance was not probed.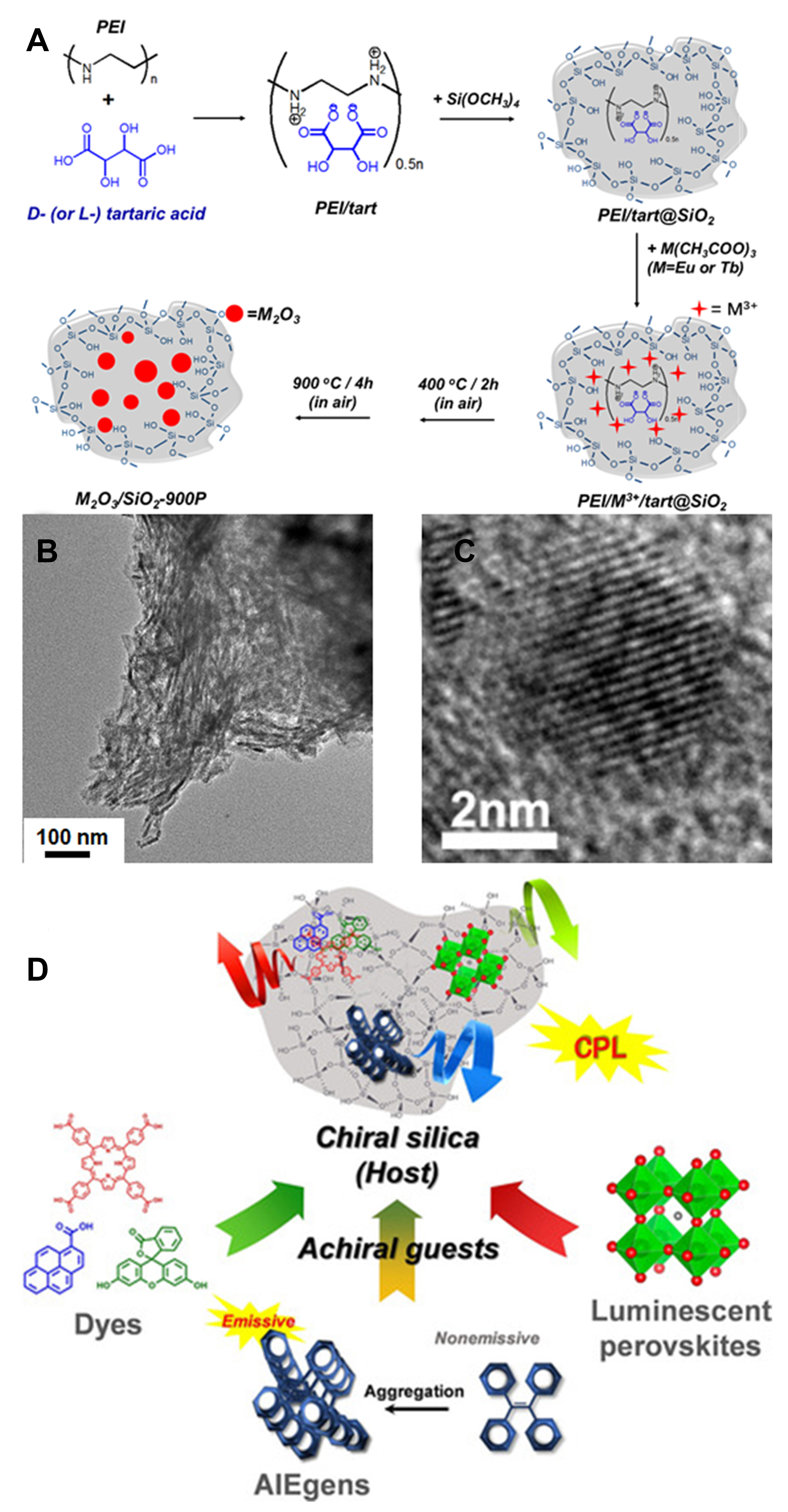 Figure 8. (A) Schematic of chiral SiO2 nanofiber synthesis using PEI/D-tart (or PEI/L-tart) as chiral catalytic templates and their usage to prepare chiral lanthanide oxide (M2O3) NPs. (B) TEM image of Tb2O3/D-SiO2 nanofibers. (C) TEM image of an individual Tb2O3 nanoparticle on Tb2O3/D-SiO2 nanofibers. Reproduced with permission from Ref.[71]. Copyright (2018) John Wiley and Sons. (D) Various CPL-active systems using chiral silica as hosts to incorporate organic fluorescent dyes, AIEgens and perovskites NCs. Reproduced with permission from Ref.[72]. Copyright (2020) John Wiley and Sons. CPL: Circularly polarized luminescence.
In addition to lanthanide oxides, other luminophores are also endowed with CPL after being embedded within these SiO2 nanofibers [Figure 8D][72]. As a unique luminescent phenomenon, aggregation-induced emission (AIE) has gained ever-increasing attention. Tetraphenylethene (TPE) and its derivatives are representative AIE luminogens (AIEgens) with high quantum yields and ready functionalization. TPE molecules can be easily absorbed onto SiO2 nanofibers modified with phenyl groups and have already demonstrated AIE-based CPL signals of ~ 476 nm in the aggregated state. When SiO2 was modified by amine groups, fluorescent carboxylic molecules (5,10,15,20-tetrakis(P-carboxyphenyl)porphyrin, 1-pyrenecarboxyl acid and fluorescein) were attached to SiO2 and then showed CPL signals at their characteristic emission bands with a |glum| of 2-5×10-3. In addition, these amine-modified SiO2 materials could work as chiral reactors for the in-situ formation of perovskite NCs with CPL activity. These results imply the significant potential of chiral SiO2 in designing CPL-related materials.
Harada et al.[70] found that cationic gemini surfactants of C2H4-1,2-[(CH3)2N+C16H33]2 self-assemble into helical structures in the presence of L- or D-tartrate counter ions. Using these organic helices as templates (dented by 16-2-16 L-tartrate or 6-2-16 D-tartrate), elegant right- and left-handed SiO2 nanohelices could be prepared and further used as chiral hosts to synthesize lanthanide ion- and perovskite-containing CPL systems [Figure 9A]. After the absorption of Tb3+ onto SiO2 nanohelices and calcination at 900 °C for 4 h in air, the small amount of Tb3+ (~ 0.31%) can display CPL outputs at ~ 545 nm (irradiated at 230 nm) with a |glum| of ~ 10-3 due to the helical-morphological chirality of SiO2. The chiroptical activity may be due to the 4f orbitals of Tb3+ being chirally distorted by the asymmetrically arranged Si-O framework. In addition, after modifying the surfaces of SiO2 helices with amine by 3-aminopropyl-triethoxysilane, perovskite CsPbBr3 nanocrystals (PNCs) are grafted onto SiO2[73]. When suspended in toluene, PNC-SiO2 do not exhibit CD and CPL signals. In contrast, after casting the above suspension on quartz and drying, the PNC-SiO2 in a dried film state became both CD and CPL active. The maximum CPL signals locate at 517.5 nm (under a 360 nm excitation) and the |glum| reaches 5.7-6.9×10-3. It was found that PNCs are closely packed and helically arranged around SiO2 helices during the solvent evaporation process, which facilitated the dipolar interaction between the PNCs and then produced CPL.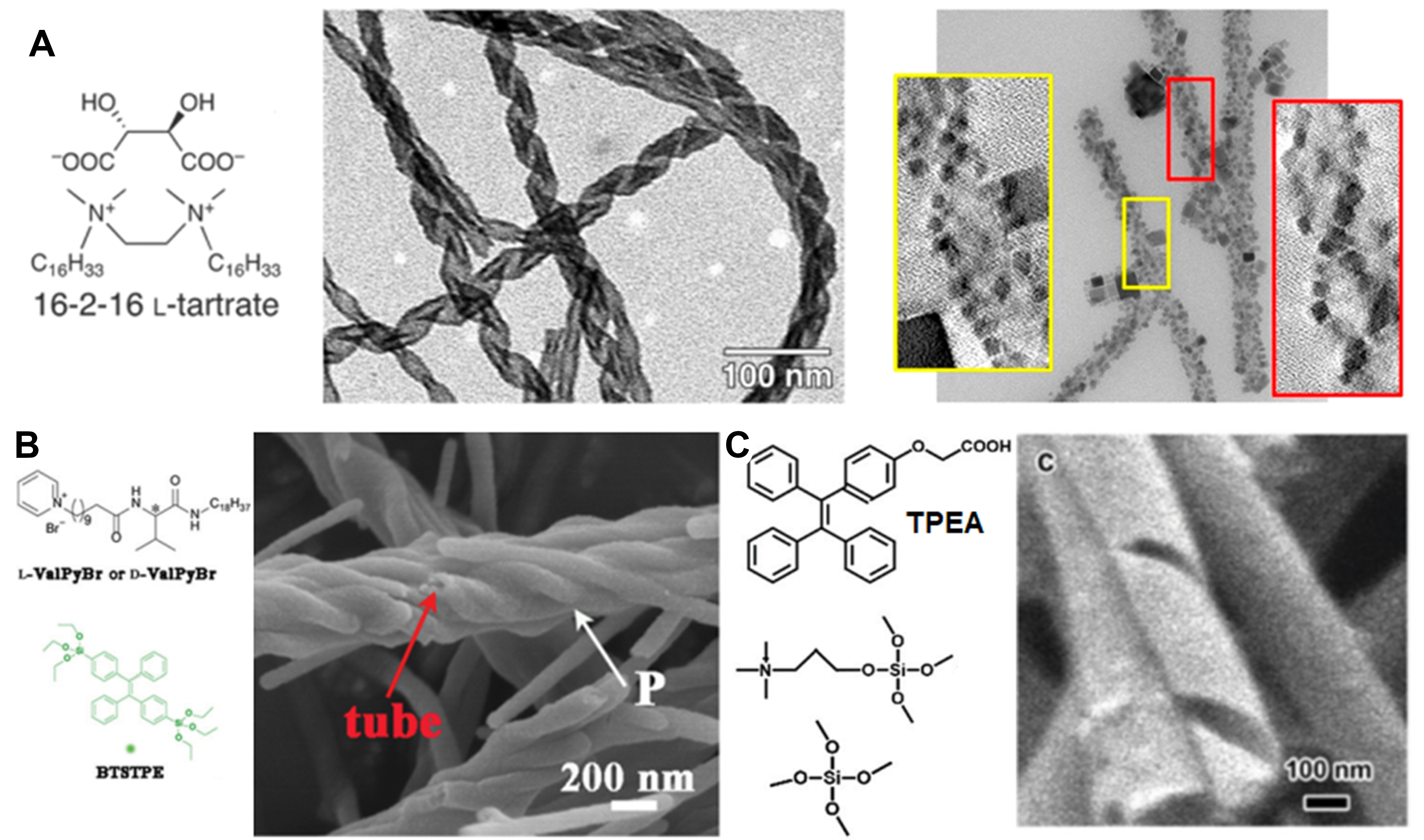 Figure 9. (A) Molecular structure of 16-2-16 L-tartrate (left) and TEM images of L-SiO2:Tb3+ calcined at 900 °C (middle) and nanohelices@PNCs in a dried film and the cross sections (yellow and red frames) obtained with 3D tomography reconstructions (right). Reproduced with permission from Ref.[70]. Copyright (2021) Royal Society of Chemistry. Reproduced with permission from Ref.[73]. Copyright (2020) American Chemical Society. (B) SEM image of TPES-P. Reproduced with permission from Ref. [74]. Copyright (2019) Royal Society of Chemistry. (C) SEM image of L-CASN. Reproduced with permission from Ref.[75]. Copyright (2019) Royal Society of Chemistry. TPES-P: TPE-silica with plus helice. L-CASN: left-handed chiral lamellar mesostructured AIEgen-silica hybrid hollow nanotubes;
The synthesis of the CPL-active materials above occurs via a two-step process, which requires the synthesis of SiO2 in advance. In fact, the luminescent components could also be one-step incorporated into a siloxane framework during the condensation of silica sources (e.g., tetraethyl orthosilicate and multisilylated organic molecules). For example, Cai et al.[74] designed TPE-containing bis(triethoxysilane) (BTSTPE) as the silica precursor and then prepared TPE-bridged polybissilsesquioxane (TPE-silica) nanotubes with single-handed helicity using the self-assemblies of a pair of chiral cationic low-molecular-weight gelators (L-ValPyBr and D-ValPyBr) as templates [Figure 9B]. Strikingly, the TPE-silica products showed high thermal stability with only a 5% weight loss at ~ 500 °C. The helical TPE-silica powders emit green light at ~ 500 nm with a quantum yield of over 21%, which is higher than that of its precursor of BTSTPE. The CPL outputs are found at 500 nm with a |glum| of 0.6-1.6×10-3. In another work, Zhang et al.[75] reported AIEgen-silica helical nanotubes displaying CPL signals at 453 nm with a glum up to 0.02 [under a 366 nm excitation, Figure 9C]. The CPL-active products were obtained by the co-assembly from 2-[4-(1,2,2-triphenylethenyl)-phenoxy]-acetic acid (as the luminophore), N-trimethoxysilylpropyl-N,N,N-trimethylammonium chloride (as a co-structure directing agent) and tetraethylorthosilicate (as a silica precursor).
Other chiral inorganic hosts
As discussed above, there are 22 chiral space groups in crystal structures, providing the possibility of generating intrinsically chiral crystalline materials. For example, the space groups of TbPO4·H2O crystals belong to the chiral group of P3121 or its enantiomorph P3221. Hananel et al.[26] employed tartaric acid enantiomers as chirality inducers to produce chiral TbPO4·H2O doped with Eu3+. Under a 365 nm excitation, Eu3+ in the TbPO4·H2O host showed strong CPL signals between 590 and 720 nm corresponding to the 0D5→7FJ transitions of Eu3+. The glum could be 0.06 at 612 nm and is comparable with many chiral Eu(III) complexes. In this work, CPL spectroscopy is also used as a tool to study the symmetry breaking behavior of chiral TbPO4·H2O crystals controlled by the enantiomeric excess (e.e.) of tartaric acid.
Unlike the case above where the symmetry breaking is regulated by chiral molecules, Zhang et al.[76] found that oleyamine-coated GdOOH nanowires with a diameter of less than 1 nm could randomly transform into macroscopic left- and right-handed helical assemblies (MHAs) at the centimeter level by an evaporation-induced self-assembly process without the assistance of a chiral dopant [Figure 10A,B][76]. The spontaneous formation of helices is a result of an energy-minimizing process and the handedness is uncontrollable. Fortunately, the left- and right-handed helices can be observed by the naked eye and easily separated. Achiral fluorescent molecule guests of DACT and TMD embedded into MHAs showed CPL signals at their emission bands at 500 and 625 nm, respectively.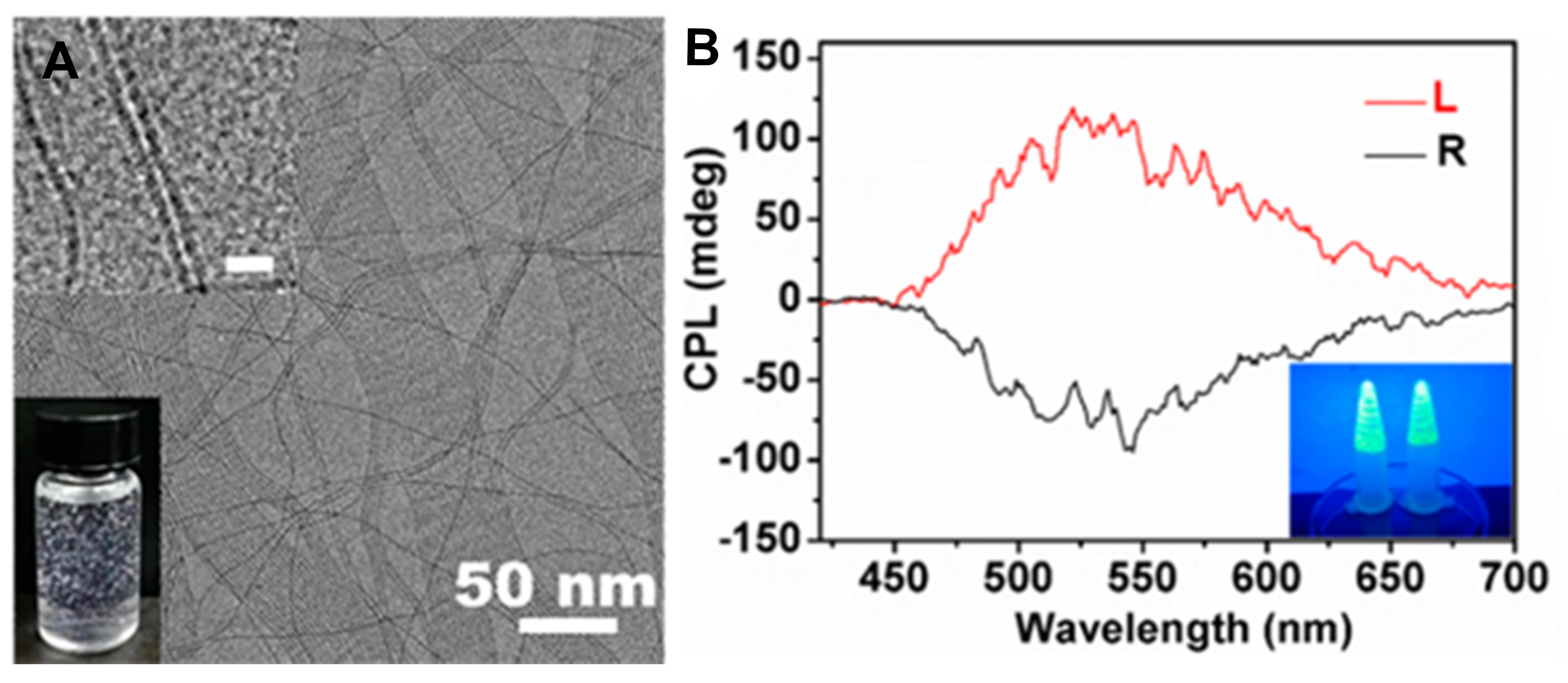 Figure 10. (A) Cryo-electron microscopy image and its large-magnification version (upper inset) of the sub-1 nm GdOOH nanowires (bottom: a photograph of the dispersion of nanowires). (B) CPL spectra of DACT-MHA. Reproduced with permission from Ref.[76]. Copyright (2020) American Chemical Society. CPL: Circularly polarized luminescence; MHA: macroscopically spiral assemblies.
SELECTED SPECIAL CPL-ACTIVE SYSTEMS
Many luminophores show down-conversion fluorescence with emission bands in the visible range. In fact, there are other luminescent processes, including up-conversion PL, phosphorescence, thermally activated delayed fluorescence (TADF) and NIR emission. Studies of the CPL related to these processes could enrich our understanding of the origin of CPL and help us to explore more CPL-related applications. Therefore, some special CPL-active systems are presented in this section.
APPLICATIONS OF INORGANIC-ASSOCIATED CPL
With success in the synthesis of various inorganic-associated CPL-active systems, their potential applications are also explored. Here, we list several examples related to sensors, security, electroluminescent devices, optical storage and asymmetric synthesis.
SUMMARY AND OUTLOOK
After a survey of the recent literature, it is without doubt that we have a toolbox to engineer multiple inorganic species (lanthanide ions, metal clusters, semiconductor NPs, carbon dots, perovskite NCs, nano-silica and so on) to undergo CPL, although they are not supposed to be chiral from our common sense. CPL in these inorganic materials is also found in various luminescence processes (e.g., up-conversion, TADF, phosphorescence and NIR emission) and is useful for many applications in sensing, optical storage, security and asymmetric synthesis. Because CPL is related to both chirality and luminescence, the achievements above prompt us to believe that two enantiomeric forms are allowed both in the structures and luminescence of inorganic substances and will open up new chirality-related horizons in inorganic chemistry and light science.
However, there are still many issues to be addressed to comprehend CPL in inorganics, including:
Reliable CPL data free from artifacts: CPL measurements are traditionally conducted on various homemade instruments and have recently been performed on some commercial CPL spectrophotometers. However, there are some artifacts possibly existing in as-measured CPL signals, which can be caused by many factors (e.g., instrumental limitations, linear dichroism effect and scattering/absorption phenomena). In particular, solid-state or anisotropic samples should be treated carefully. To this end, some experimental guides and data analysis methods can be found to obtain true CPL signals[89-93]. In addition, it is encouraging to give CD/PL spectra and some experimental details (e.g., sample concentrations and spectral test parameters) together with CPL data. It will be helpful to check the reliability and reproducibility of CPL signals.
Enhancement of glum: As shown in Table 1, the glum values of many kinds of inorganic-associated CPL are ~ 10-3 or lower, although some metal ions (e.g., lanthanide and chromium(III)) can potentially present high glum due to magnetically allowed but electric-dipole forbidden emissions. The small glum value means that the differences between LCP and RCP only account for 0.3% of the total emission. Hence, there is a significant potential to increase glum. Some enhancement strategies have been proposed, which are fulfilled by ingenious molecular design, energy transfer processes, plasmonic metal-assisted enhancement and assembly-/aggregation-induced CPL[19,94-97].
Evaluation indexes for CPL: Basically, CPL is based on luminescence and therefore the indexes for luminescence, such as quantum yield, brightness, excitation and emission wavelengths, should be taken into consideration together with glum. For example, Eu complexes showed a highest glum of 1.38 but with a very low emission quantum yield of less than 1.0%, which restricts their applications, especially in displays. The choice of excitation wavelength is also important in improving the CPL performance in some luminescent systems involved with energy transfer (e.g., metal complexes). Moreover, the relationships between glum and the luminescence parameters above are underexplored. Some researchers have suggested several indexes, such as a figure of merit (FM) (FM = Φ×glum, where Φ is the emission efficiency), asymmetric quantum efficiency (φa) (φa = IL/I0 or IR/I0, where I0 is the incident light intensity) and a brightness indicator (BF) (BCPL = ελ×Φ×glum/2, where ελ is the molar coefficient measured at the excitation wavelength)[21,98,99]. Nevertheless, the application of the indexes above is underexplored for different purposes.
Multiple-component CPL-active systems: In many cases, the system is constructed as a binary-component mode, i.e., only one chiral entity and only a luminescent one. However, it is not easy to achieve an ideal CPL effect (e.g., high glum, strong emission and tunable emission bands) only by two components. Consequently, multiple components can be introduced to manipulate the optical and chiral properties.
Revealing the detailed mechanisms for CPL: Although we know how to synthesize CPL-active materials, the underlying mechanism is not well explained in many publications. Often, the chirality transfer/induction mechanisms proposed for CD activity are roughly extended to CPL activity, but it is unsuitable in some cases because CD and CPL belong to two different transition processes. In addition, the theories and simulation methods addressing luminescence in a chiral environment are currently inadequate.
Exploration of CPL-based applications: The applications described here are still in their infancy but are inspirational nonetheless. With success in materials synthesis, exploration of their real applications is an important follow-up work.
DECLARATIONS
Authors' contributions
Prepared and corrected the manuscript: Liu X, Jin RH
Availability of data and materials
Not applicable.
Financial support and sponsorship
The research was supported in part by the JSPS KAKENHI, grant number: JP16H06515 (Coordination Asymmetry) and by the JSPS KAKEHI Grantin-Aid for Scientific Research (B), 19H02767.
Conflicts of interest
Both authors declared that there are no conflicts of interest.
Ethical approval and consent to participate
Not applicable.
Consent for publication
Not applicable.
Copyright
© The Author(s) 2022.
Cite This Article
OAE Style
Liu X, Jin RH. Recent advances in circularly polarized luminescence generated by inorganic materials. Chem Synth 2022;2:7. http://dx.doi.org/10.20517/cs.2022.01
AMA Style
Liu X, Jin RH. Recent advances in circularly polarized luminescence generated by inorganic materials. Chemical Synthesis. 2022; 2(1):7. http://dx.doi.org/10.20517/cs.2022.01
Chicago/Turabian Style
Liu, Xinling, Ren-Hua Jin. 2022. "Recent advances in circularly polarized luminescence generated by inorganic materials" Chemical Synthesis. 2, no.1: 7. http://dx.doi.org/10.20517/cs.2022.01
ACS Style
Liu, X.; Jin R.H. Recent advances in circularly polarized luminescence generated by inorganic materials. Chem. Synth. 2022, 2, 7. http://dx.doi.org/10.20517/cs.2022.01